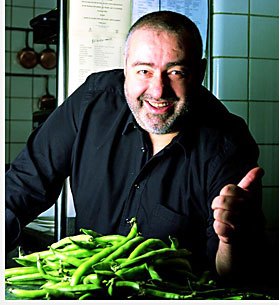 One of the world's top chefs Santi Santamaria collapsed and died at a marathon food tasting event at Marina Bay Sands for the international media last night.
The three-star Michelin chef from Barcelona, who was supposed to host journalists at his restaurant at the casino resort, had collapsed midway and was taken to the hospital.
The 53-year-old was believed to have suffered from a heart attack.
Food critic Cristino Alvarez, who was speaking to him at he time told Fox News that his last words to him before he collapsed were: "I'm taking a turn for the worse". The rotund chef showed no signs of bad health at the press conference held in a theatre there in the late afternoon before the gourmet safari at six celebrity restaurants.
He was chatty and jovial as he replied to questions from the media and when mingling with them and well-wishers for phototaking after the press conference.
His restaurant, Santi, was one of the six restaurants scheduled to be formally unveiled as a group to the media tonight.
The rest were restaurants by Mario Batali (New York), Daniel Boulud (New York), Wolfgang Puck (Los Angeles), Guy Savoy (Paris) and Tetsuya Wakuda (Sydney).
At the press conference, Chef Santi joined the five chefs plus Singapore's Justin Quek in affirming the unique and formidable gastronomic showcase of their cuisines at the integrated resort, the Sands' crown jewel of its casino collection.
His Singapore restaurant Santi was supposed to serve some of his best Tapas signatures to the journalists who came from all over the world.
Like his chilled Gazpacho, oysters escabeche, pinchos morunos, octopus and Romesco, Iberico Ham with "Pa Amb Tomaquet" and Chocolate Bunyols dessert.
While praising Singapore as a first-class tourist destination at the press conference, he said the most important memory of one's travels would usually be the food.
"Whether they are casino goers or high-rollers, they have to eat too...and here, we have got everything for them," he said, while acknowledging the contributions of the seven chefs in MBS' fine-dining repertoire.
Agreeing, chef Wolfgang Puck said: "I can enjoy one of the best Peking Ducks at Imperial Treasure and the best ham from Spain at Santi."
Source:
http://news.asiaone.com/News/Latest%2BNews/SoShiok/Story/A1Story20110217-263919.html